Best Of New England
Berkshire Mountains - Green Mountains - Adirondack Mountains -
White Mountains - Maine Coast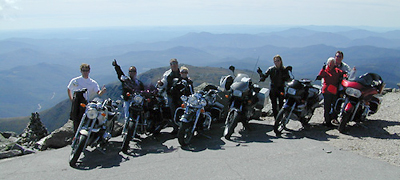 "The tour was really what we expected: great riding in a magnificent area and meeting kind people with mutual interests but from a wide variety of personal backgrounds. We believe that we've made friends for life ."
- Hans and Birgit Jelinek of Graz, Austria
| | |
| --- | --- |
| | New England offers an extraordinary range of superb riding within a relatively compact area. If you've read the descriptions of the Mountains and Maine Maritime tours, you may find yourself wanting to do both. That is exactly what the Best of New England tour will offer you. |
"A clever combination of relaxation, travel and motorcycle skill-building along with meticulous route planning and consummate attention to detail. I can't wait to come back - for the fourth time ."
- Keith Formosa of Toronto, Ontario
Starting with a loop through the Berkshires, you'll cover every aspect of the Mountain and Maritime tours, from the Vermont mountain gaps to the ocean cliffs of coastal Maine. You'll have the time to enjoy the wide variety of superb riding that this region offers. This is the ultimate tour of New England. We'll bring you to the places that riders have been talking and writing about for years as well as guiding you along superb roads known only to local riders.
| | |
| --- | --- |
| The Best of New England tours feature two-night stays in southern Vermont; the White Mountains; Bar Harbor, Maine and St. Andrews; New Brunswick, so you'll have ample opportunity to explore activities such as hiking, whale-watching, white-river rafting, shopping, fly-fishing or any number of other options. And if you want to ride every day, we'll always have an excellent group ride ready to go or custom maps and suggestions for you to use to do your own exploring. | |
| | |
| --- | --- |
| | Accommodations are first-rate throughout the tour, and gourmet dinners will await you at the end of each day. If you've never ridden in this part of the country or never fully explored what it has to offer, this tour will show what you've been missing. |
The twelve-night "Best of New England" tour begins in Dover, Vermont and ends in Bar Harbor, Maine which is located about 350 miles from Dover. For riders who wish to return to Dover at the end of the tour, a map and route sheet for that return ride can be provided upon request and hotel reservations can also be arranged. Riders who choose to rent a motorcycle for the tour can pick it up in Vermont and drop it off in Maine for "fly and ride" simplicity.
The "Best of New England" tour is available only as a custom tour. Please contact us for details.
All photographs, graphics and text on this site copyright © 1996 - 2015. Any reproduction or use of material which appears on this web site without the explicit permission of Northeastern Motorcycle Tours is strictly prohibited.