| | |
| --- | --- |
| By William Luring #65300 | BMW Owners News, February 2000 |

Fellow members of BMWMOA frequently say, "You took a tour?" and look at me with a sudden expression of horror! But the secret is getting out- organized motorcycle tours are usually very good, and more frequently than not, fantastic!
Why would someone like me, someone who prefers to ride solo, who thrives on planning each day's routes on a trip and likes the quest for the best motel and gourmet restaurant for the money, go on a tour? A typical riding season where I live in southern Vermont sees me cover eight to ten thousand miles, enough to satisfy my wanderlust, but I'm certainly not an LD rider. I do like to eat well, and have found in recent years that after three or four days on the road, I get admittedly lonely since my wife doesn't ride with me. Lonely for someone to share the views, a nice drink and a meal after a day on the road. So, when an acquaintance of mine in Vermont, Sean Reid, said he was operating motorcycle tours in the northeast, including Nova Scotia and the Cabot Trail, I thought, OK, let's give it a try.
We assembled in Bar Harbor, Maine, at an upscale resort-hotel, with a ride meeting over cheese and crackers. Each of us received maps and route sheets for each day of the tour so that we had the option of riding with the group or heading off on our own. Drinks throughout the tour were at our own expense but nearly everything else was included: accommodation, admission to attractions, breakfast, open-menu dinners, taxes, etc.
There were ten of us in the tour, plus Sean and Clayton, his chase van driver. I was to share a room with Alan, a computer programmer from England in his mid-twenties who had rented a Harley in Boston, and was staying on for another NMT tour after Nova Scotia. Two couples had shipped their bikes from Colorado, a K1100LT and a K12RS. One couple from Miami shipped their ST1100, and one couple from Pennsylvania, (Harley riders and repeaters from last year) trailered in. I ride an R1100RT and Sean rides either a K75RS or an F650. Thus four out of seven bikes were BMW's. Many used the chase vehicle (a late model Suburban pulling an enclosed trailer) to carry their luggage. I mostly kept mine in the saddlebags, but left the top box in the van.
After meeting everyone, and learning of their respective impressive occupations, (two attornies, a doctor, security firm administrator, utility company manager, computer programmer and me, a retired education administrator), we moved on to dinner at the hotel's lobster pound with our choice of anything from the menu. Most everyone ordered 2-pound lobsters! Then off to bed for an early ferry ride the next morning on the fast Super Cat to Yarmouth, Nova Scotia.
There was no lack of help in tying my bike down on the slippery deck of the ferry, with Joe from the Harley and Sean helping me as soon as their bikes were secure. Sean went over the route maps, explaining there was an Acadian museum we would stop at, and suggested a location for lunch. We were told we should ride our own ride, that he would lead, the faster riders should go in the front of the group, and all riders should keep at least two seconds between bikes. Then off we went, traveling along the coast heading east to our first stop for the evening, at an upscale hotel with decks facing the water, fireplaces, and separate living rooms. Beautiful! We rode only 122 miles (our usual ride was 200 miles per day) after leaving the ferry, but it was a full day ending with another incredible meal (planked salmon for me) and much fun at the dinner table with what were fast becoming new friends.


All of the riders were very capable; some chose to ride at what I would call a moderately fast pace and others preferred a fairly modest touring pace. The next morning was typical. Get up at 7, have breakfast from the menu at 8, (eggs benedict were a favorite), and leave at 9. Sean would lead and we would follow in an order that seemed to evolve. Sometimes one or two riders would leave the group to rejoin us at lunch or dinner. Clayton would follow in the chase van, and was in communication at all times with Sean, and offered lemonade or water at rest stops in remote areas. Whenever we came to a museum or other interesting spots, Sean would either recommend stopping or skipping it, having researched and visited all points of interest along the way. In this manner we worked our way around the coast to Halifax, stopping for a visit at Peggy's Cove. In Halifax we stayed at a hotel, which overlooked the harbor, parking the bikes in a reserved location in front under the watchful eye of the doorman.
Day three was a beautiful clear day for the ride to Cape Breton, where we were to stay for four nights, and the promise of riding the famous Cabot Trail (counterclockwise) had everyone excited. The big day dawned clear and warm, and Sean led the way, stopping several times at small villages and look out points for photos. Lunch was at Cape North at an unassuming looking place serving oysters on the half shell and a great burger. We rode over 200 miles of beautiful expansive ocean vistas and forested lanes with little traffic. The Cabot Trail and Nova Scotia are definitely a "must do" ride and visit, among the most beautiful places in the world.


We split up the second day to do what each wanted, some to the Edison Museum, me to Sydney for a meeting, and the remainder to a restored French fortress city. For our last day on Cape Breton, several people chose to take a boat ride to see eagles, cormorants, puffins and seals, a nice break from riding all day. This left enough time for a few miles on the trail, and a stop at the Gaelic College. For the evening Sean arranged for us to attend an authentic Ceildh, an evening of French-Scottish fiddle music and step dancing. The next morning we headed west along the northern coast, the road sometimes hugging the ocean and sometimes meandering through farmland and apple orchards. Our last night in Nova Scotia was spent in a historic B & B in the Annapolis Valley, complete with our usual nightly gourmet dinner.
I'd be remiss if I neglected to mention the feeling of welcome by created by all of the people we met in Nova Scotia. I have traveled extensively, and nowhere in the world have I found warmer, friendly, and genuinely interested residents.
In the morning we rode back to Yarmouth, either riding solo or in groups of two. En-route, we stopped at a tiny unassuming looking restaurant in one of Nova Scotia's Acadian French regions and had scallops fresh that day, the best I've ever enjoyed anywhere. I'd go back again just for those scallops. That evening we took the Super Cat back to Bar Harbor, giving us plenty of time to review the trip. Everyone had a terrific time, and hoped we could have a reunion trip. (Sean says his repeat rate is about 80% and I wouldn't doubt it.)
In the morning, some slept in, but most of us got an early start back to reality after 1400 miles in Nova Scotia. Organized motorcycle tours may seem expensive, but this one was worth every penny. The riding in Nova Scotia and the Cabot Trail, the food, the accommodations, Sean's leading and organizing, the local people, and perhaps most of all, joining like-minded motorcyclists to share the experience made this a lifetime highlight.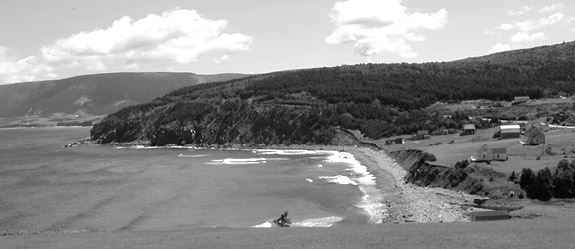 All photographs, graphics and text on this site copyright © 1996 - 2015. Text for this article by William Luring and photographs by Sean Reid. Any reproduction or use of material which appears on this web site without the explicit permission of Northeastern Motorcycle Tours is strictly prohibited.