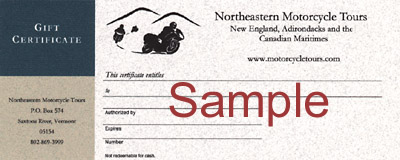 We've had a lot of customers purchase tours as gifts for their parents, husbands, wives, friends, etc. By request, we've now developed an NMT gift certificate which can be applied towards any tour we offer. You can prepay an entire tour, pay for the deposit or pay for any part of the tour cost. Our gift certificates create a birthday, holiday or anniversary gift that won't be ever be forgotten. The certificate does not have to be associated with any specific tour at the time of purchase.
Gift certificates can be purchased in any amount and are valid for at least five years from the issuing date. They are not refundable or redeemable for cash but they may be applied towards any of our tours.
For details, please e-mail us or call us at 802-463-9853.